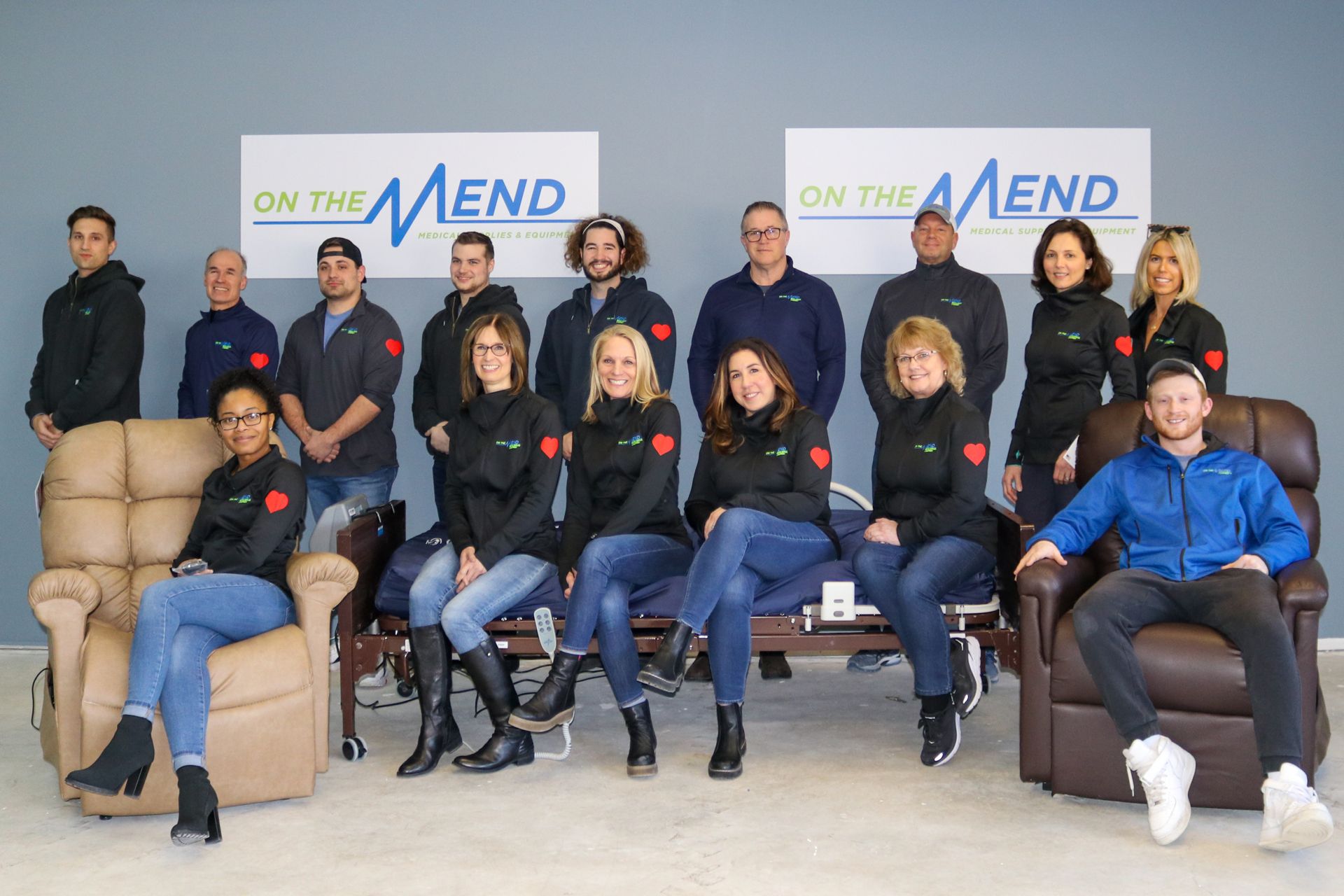 Hello and welcome to On The Mend Medical Supplies & Equipment's website and online shopping guide.
We are a full service medical equipment company that opened its doors on May, 21st 2016. We have a 3,000 square foot showroom located in the back of Union Square Plaza at 385 Main St. South Unit 102 Southbury, CT 06488.
February 2020 we opened a second store in Mount Kisco for our customers in New York ❤️ at 280 N Bedford Rd Suite 101.
My name is Liam O'Keeffe and I am the proud owner of On The Mend. Our #1 goal is to help you get the medical product you need with the least amount of difficulty at a fair price. We have streamlined the process and invested in warehouse space in order to have the equipment you need when you need it. We pride ourselves on being a now-center with quick delivery and speedy turn around times.
If you want to stay in your home longer, you have come to the right place. We specialize in at home medical equipment like Access BDD and Harmar stair lifts, Golden Tech reclining lift chairs and scooters, access ramps, barrier-free walk in showers and bathtubs, as well as home and bathroom safety products. We also offer multiple levels of hospital beds and alternating pressure mattresses to satisfy both comfort and clinical needs for any medical situation.
At On The Mend, compassion and customer service is at the forefront of everything we do. We realize that people come to our store for a variety of reasons. Therefore we hope you notice that we do care about your experience, and we will make the transaction and delivery as easy as possible for you.
In order to be successful in providing compassionate solutions for our customers, we have learned two things we need:
Find the right people with a compassionate, caring attitude
Invest in training and give our people the best tools available to further their expertise
Our Marketing and Sales director, Marsi Beck, and I are looking forward to earning your business. Please come by and meet us if you get the chance. We are a little different to say the least. We promise a great experience, no matter what your role is as a customer of our store.
Take care and thanks for stopping by.
Our Mission
We started On The Mend Medical Supplies & Equipment in May of 2016 to provide our community with a better outlet for obtaining medical equipment and supplies. Our mission is to satisfy both the therapeutic and assistive technology needs of our community. Our approach is simple; we listen to your needs, research solutions, and provide you with the best options based on that information. Most of all, we are sensitive to our customers' needs and will accommodate any situation. Call us today for a free assessment and home safety evaluation.
We are ultra focused on providing the highest level of customer service possible, and anything else is not acceptable. Our goal from the beginning has been to treat every one of our customers the way we would want our own parents and family to be treated.
We specialize in providing medical equipment solutions for those people who are aging in place and want to stay in their home, as well as for those who have lost their ability to live independently.
We provide free home assessments and specialize in finding ways to keep you in your home longer. We cover all of CT, MA, RI and NY.
We have a 3000 square foot showroom at 385 Main Street South unit 102 in Southbury CT.
Store Hours
Monday – Friday 9AM – 5PM
Saturday 9AM – 3PM
Sunday Closed
---