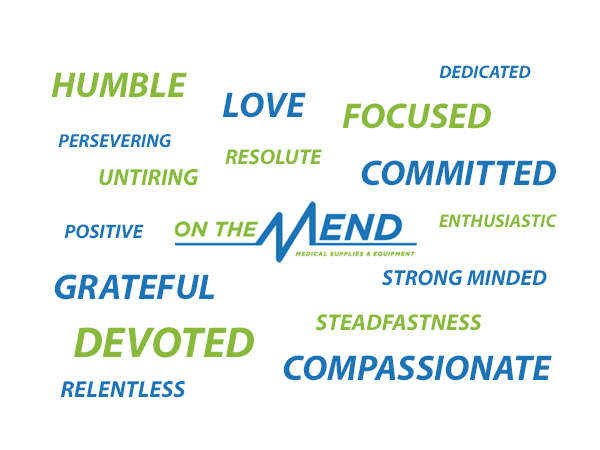 As we embark on 2020, a new year, new goals, new 2nd store, new customers, new patients, new cases, new product, additional new staff…(this is a whole lot of new). We at On The Mend want to assure you that our customer service will always remain our #1 focus and goal. Nothing new about this!
The adage "what's old is new again" somewhat applies, with all positivity!! Meaning, this is not a resolution, this is nothing new, we will never lose our desire to service our customers, & our referrals with our genuine, 5-star 🌟🌟🌟🌟🌟customer service. We know no other way!! It is how we started our business, and how we will continue to serve our customers and communities. It's why we do what we do. We love our customers, we love finding solutions, we are touched by each individuals situation and we will work tirelessly until they are happy, comfortable and safe.
Featured Friend of the Month
The Pink Chair Project
I have the great pleasure of highlighting our beloved Cara Spath and The Pink Chair Project. The mission of the Pink Chair Project is to deliver support, physically and emotionally to breast cancer patients by providing comfort with a reclining lift chair throughout their healing process. Founder & President, Cara Spath along with her daughter Emmie Spath Founder/V.P….
"I can't think of a better way to celebrate my 5 year "Cancer Free" anniversary than beginning this new venture with my daughter and an amazing group of women. As a Breast Cancer survivor I know personally how beneficial a reclining chair can be for a patient after having a double mastectomy and I am eager to be able to provide this resource for patients in need. In addition to being a wife, mother to three awesome children and our two dogs, I also own my own cosmetic tattoo business. I provide a sense of self and a sense of fulfillment, by tattooing 3D areolas and eyebrows to patients after treatment. I couldn't imagine a more rewarding career, meeting these amazing woman, hearing their stories and making a difference in the way someone feels every day. I am also the Founder/organizer of "A Day of Hope", in which we pamper patients and survivors that have been affected by breast cancer with free spa treatments. Everything happens for a reason and being diagnosed with cancer at 41 has put my life and the lives of those I love into perspective. I was blessed with such amazing support from friends and family during my recovery, this is just one small step to repaying that gratitude."
-Cara Spath
Cara, Emmie and the Pink Chair Project are not only a gift to On The Mend but a gift to the world…. They are changing the world!!
Featured on YouTube
Welcome to Westchester County, On The Mend 2 has arrived in Mt.Kisco, NY!
Featured Product
Compression Socks, Stockings & Custom Garments
Winter is a popular time to have leg & vein therapy, as well as surgeries necessitating compression. On The Mend has all of your compression needs. Come in to either location for certified measuring/sizing and leave with the compression you need. OTM has a full line of medical compression by Jobst & Sigvaris.
Mark Your Calendars!
Upcoming Events
Next month is February, the month of love 😍💌💘. In the meantime, from all your friends at on The Mend:

Happy New Year!!! THE BEST IS YET TO COME!

All the best,
Your Friends at On The Mend Medical Supplies & Equipment