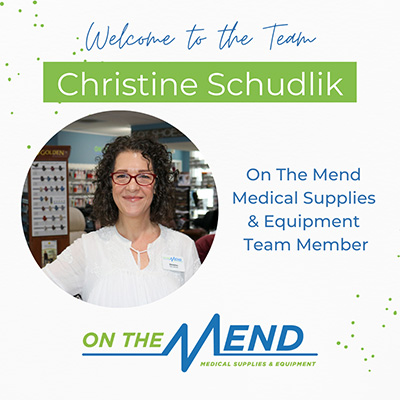 Welcome to the team, Christine! We're excited to announce our newest team member, Christine Schudlik. Christine wears her heart on her sleeve and is always ready to help. Such a perfect addition to the team. 💚💙
Last job: I was a private aide for the elderly for 6 years until the start of covid.
Best job you've had & why: The best job I have ever had is being a mom! My daughter is my greatest accomplishment! I had her when I was 22 and so naturally I grew up while being a mom. She has taught me the greatest lessons in life which in turn is my greatest accomplishment. Who she is today at 32 years old has been a testimony that I didn't fail and actually did a great job!
Worst job and why: Every job I have ever had has its pros and cons. I have served in every position I have ever had from 25+ years in cosmetics, to waitressing and side hustling as a single mom. Every position I honestly loved in the time I was there, my only regret was not taking the time to smell the roses.
What brought you to OTM: Macaire and I worked together at Saks Fifth Avenue in White Plains, NY in the 90's and again in early 2000 at Neiman Marcus and have stayed in touch. She is the reason I know about OTM!
One short term goal:  To live and not just be alive

One long term goal:  To leave a legacy for my small family.  I want to sow into every person and experience I have and spread as much light as I can so that I am not just a name but an emotion, a feeling, a memory on how I made a difference! How do you like spending your free time:  I have been blessed with grandchildren and love spending time with them.  I am an avid reader and love escaping with a good book, I am a firm believer in self-development and so I attend courses and have mentors.  I also crochet and knit though I never have kept anything I have made for myself.  I'm a nature girl and love getting outside, hiking, bike riding, nature walks.
How have you liked your OTM experience so far? I absolutely love working here and contributing to helping people with their needs. Everyone is amazing here at OTM. I felt at home on the first day. The day flies by so fast it doesn't even feel like work!
Favorite restaurant: It's hard to find a favorite restaurant since I am a great cook. If I had to pick one it would be something I can't make like Asian infusion food like PF Changs
What are you most proud of at this point in time? I am most proud of my culture. My whole family is deaf or hard of hearing and sign language is my first language. When people learn that my parents, grandparents and aunts and uncles are deaf, they respond with an "oh I'm so sorry" and this baffles me. That would be like feeling sorry for me because I'm Spanish. The deaf culture is amazing and the language so beautiful. My dad was a custom home builder and very successful and my mom worked for Chase Manhattan Bank. I grew up in Mount Kisco/Chappaqua…There was nothing to feel sorry for lol